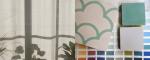 All you need to know about Maison Bahya tiles
Is encaustic tile for me?
Maison Bahya does its best to offer cement tiles possessing a soul, charm and beauty… Our craftsmen are using their entire skills set to bring unique creations to life.

However, handcrafted an encaustic tile is especially charming because of its imperfections, its nuances and its singular colours. What most would see as awesomely beautiful, some others might see it as not satisfactory.

Before deciding to buy handcrafted cement tiles, it is advised to bear in mind their handcrafted nature. In some cases, it could even be advised to go for ceramic tiles or industrial cement tiles available from big retailers.

See our photo gallery, there you can see all the imperfections of our tiles… colour nuances or some imperfect lines.


How to get a quotation?
For quotation, we kindly ask you to use our simulator tool in order for us to collect all accurate needed information.


What are the prices?
Our prices vary depending on the number of colours per design: from £90 / m2 for plain 20x20 cm to £132 / m2 for a pattern in the same format, worked in 6 colours. To this is added the cost of delivery, calculated from the quantity and delivery site.


Do you deliver outside of London?
Our transporters deliver anywhere in the UK. Delivery abroad are usually possible - ask for advice.


What is the thickness of an encaustic tile?
We exclusively produce cement tiles made of 16 mm for the floor. Glue representing 3 to 4 mm, there must be a reserve of about 2 cm. For walls, and because the material is heavy, we reduced the thickness to 12 mm. It is also applicable onto plasterboard.
Is there a minimum order?
The minimum quantity order for a same pattern in the same combination of colours is 12 floor tiles (0.48 m2) and 16 wall tiles (equivalent to 0.64 m2).


Do you carry stock?
We do not carry stock, all is made to order, that allows each customer to customise its own encaustic tile. Our simulator gives you the freedom to customise forty encaustic tile patterns with our palette of 75 colours.


Can we lay cement tiles in a shower?
Laying cement tiles, including shower floor, is a difficult task that we do not recommend. Your contractor will make fine mitre cuts, intended to create a slope and facilitate the flow of water. Furthermore, in terms of maintenance, this type of installation is delicate in areas with hard water where stains from limescale will become problematic, anti-limescale products can not be used on an encaustic tile. The addition of a water softener may nevertheless be a solution to this issue. In all cases, we advise you to ask your contractor for advice on how to work around that.


Can we lay cement tiles outdoors?
It is possible to lay cement tiles, outdoors, in areas less exposed to frost and acid rains. Furthermore, the shades of blue will tend to discolour in contact with UV. Therefore, sheltered areas and the warmer colours (red, yellow...) are more suitable.