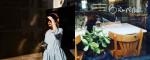 Check out those places we like
In Paris
Bom Granola, 20 rue Hoche, 78000 Versailles
Cœur de Baker, 60 rue Gay Lussac, 75005 Paris
Jean Hwang Carrant, 84 rue d'Aboukir, 75002 Paris
Simply the best cookies in town! Macadam nuts, chocolate, sesame, caramel, rhum and matcha tea… All ingredients have been selected by its founder, Jean. An American who fell in love with Paris, and that for the pleasure of our palates! !
www.jeanhwangcarrant.com
Le Boucan, 108 bd de Clichy, 75018 Paris
Fiesta, loud talking, mess, shindig… A highly colourful café, and the perfect place to go to bite a cheese and bread plater with friends ! !
facebook/Leboucanbar
Le Nove, 9 rue de Charonne, 75011 Paris
Welcome to Italy! A traditional Italian cuisine enthusiast, Nove offers a unique selection of authentic and handmade Italian only products. The pizza is 100% Italian, the flour, tomatoes, mozzarella di Bufala… and even the pizzaiolo. Everything is freshly prepared daily.
www.nove9.fr
Le Petit Parisien, 17 rue du Vertbois, 75003 Paris
This traditional bakery is the place to go for classic French bread and pastries, using organic floor and high-quality products, homemade with great care. We adore their "Tarte gourmande" and "Choux à la crème" ! !
facebook.com/lepetitparisien75003/
Mme Pervenche, 9 rue Greneta, 75003 Paris
An exceptional bar ! Chic and relaxed atmosphere, top music choice, refined decoration style and gold staff. This will make you feel at ease and want to stay for hours ! !
facebook/MadamePervenche
Monique & Myrtille, 83 rue Orfila, 75020 Paris
Ob-La-Di, 54 rue de Saintonge, 75003 Paris
THE coffee shop of the "Haut-Marais", with its Californian style is the perfect place to have a snack day round. It is the hot spot for Anglo-Saxons and hipsters. Known for its delicious granola, flavourful fruit juices and homemade cakes… Everything is organic and mouth watering ! !
www.facebook.com/ObLaDiParis
Paris Céleste, 20 rue Choron, 75009 Paris
Next door to Montmartre, next to the "Martyrs, the hosts from this family apartment welcome you for a cosy stay, in a mix of vintage and contemporary style. Each details of the 25 m2 en-suite bedroom were carefully thought by the women of the house, an interior designer, Tel. +33 (0)6 15 07 32 21

Outside of Paris
Cru, 33 rue des bahutiers, 33000 Bordeaux
Fromagerie Kalou, 24 avenue de Mazargues, 13008 Marseille
Le Klapier, 10 Rue Notre Dame, 61400 Mortagne-au-Perche
Les Maisons Fabel, Biarritz
Maison Emilienne, 17 Rue du Petit Saint-Jean, 34000 Montpellier
Paus' Ethic Home, 1 route de Marennes, 17100 Saintes
And elsewhere...
La Cevicheria, Chaussée de Waterloo 578, 1050 Ixelles, Belgique