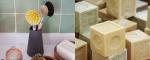 How to care for your cement tiles?
Regular care

Regular care of encaustic tile is to be done with a PH neutral detergent or fatted soap (Black soap, Marseille soap for example), diluted in hot water.
Never use a strong detergent, acidic or alkaline. Bleach or hydrochloric acid are to be banned. Stubborn stains can be faded by using a gentle abrasive material (green side of a sponge for example) and soap. Do not hesitate to wax the cement tiles once or twice a year.


Applying a sealant
The initial coat of sealant must be applied after the tiles' laying.
It is then advised to re-seal the tiles every 4 to 5 years.
In high wearing areas such as the kitchen floor, cement tiles can be treated every 2 to 3 years.
You can apply the treatment yourself: the tiles will absorb it without changing their aspect, therefore, it is safe to do.